Ador Welding Machine -Champ T400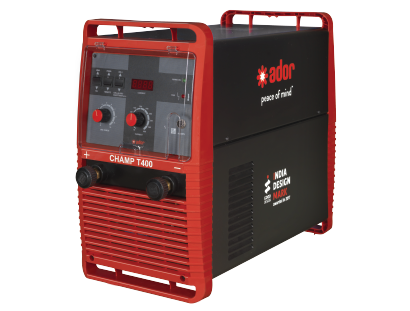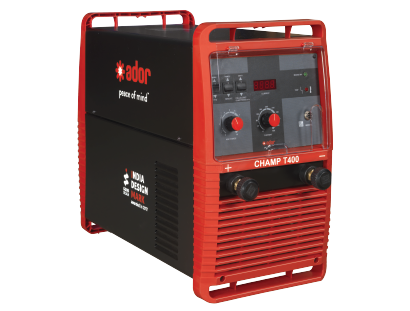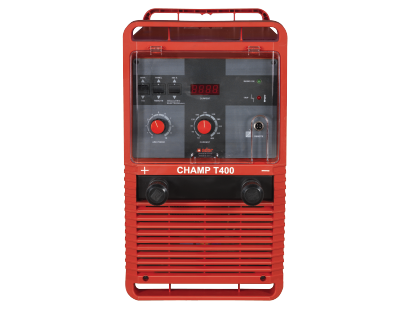 Champ T400
400 AMP 3 phase inverter-based, High-efficiency DC Welder. Suitable for pipe welding with cellulosic electrodes 6010, 7010g, and 8010G.
Latest Inverter based rectifier units are suitable for Manual Metal Arc welding (SMAW) process with all general purpose and special electrodes like 7018 type etc.
Ideally suitable for light, Medium and Heavy duty, all purpose industrial, structural welding applications both within shopfloor and at project sites including construction of power plants, Refineries and cement plants etc.
Download PDF
Enquire Now
These Energy Efficient, latest Inverter based rectifier units are suitable for Manual Metal Arc welding (SMAW) process with all general purpose and special electrodes like 7018 type etc
Ideally suitable for light, Medium and Heavy duty, all purpose industrial, structural welding applications both within shopfloor and at project sites including construction of power plants, Refineries and cement plants etc
These welding rectifiers can be also used for DC TIG welding applications by connecting suitable TIG control units (HF 2000 / 2000 AD / 3000 / 3000 AD)
Most recommended for project site applications, where easy portability/mobility, light weight compact machines are desired due to space constraints etc as well as when they are to be used at some heights above the ground level
Inverter (IGBT) based, energy efficient welding rectifiers for heavy duty structural welding applications
High power factor, high efficiency resulting energy savings up to 35% over thyristorised rectifiers
Provided with protections against Over voltage, Under Voltage, Overload and Single phasing
Welder friendly operation-Arc force adjustments provided on the front panel
Enhanced reliability due to SMD technoloy in PCB design and manufacturing
Robust mechanical construction – recommended for hostile operating conditions and heavy duty usage at project sites
Suitable for TIG welding at site by using external HF control unit like HF 2000 / HF 3000