Knowledge

Partnership

Welding Skill Development for Institutes, Vocational Training enterprises and the industry to create skilled manpower for welding manufacture of global quality.
Our Knowledge Partnership will deliver:
Best-in-class welding practice shop which is fully compliant with health, safety, and environmental norms. Supplies include all types of welding equipment, ergonomic and fully equipped welding booths with protective curtains, fume extraction facility at each booth, workbench with fitted vices and all necessary accessories and tools.
A wide range of field-tested, employability-based training modules, across the skill spectrum; from entry level to pipe welders to supervisors to welding inspectors.
Comprehensive training content and delivery material, which the faculty can use to effectively train the candidates. It includes digital as well as physical documentation.
Training of Trainers
Assessment & certification
Assistance to eligible candidates for gainful employment
We also partner with Polytechnic and BE Institutes for Certificate programs in WeldingProduction, Quality and Inspection aimed at improving employability. Curricula are based on industry needs and are delivered part-time to Pre-final/ Final year students who opt for such programs. Placements are offered along with the partnership.
Our Training portfolio is vast and caters to entry level skills as well as specialised skills for welders, technical skills for supervisors and engineers and skills in the discipline of design, production, and QA for manufacturing.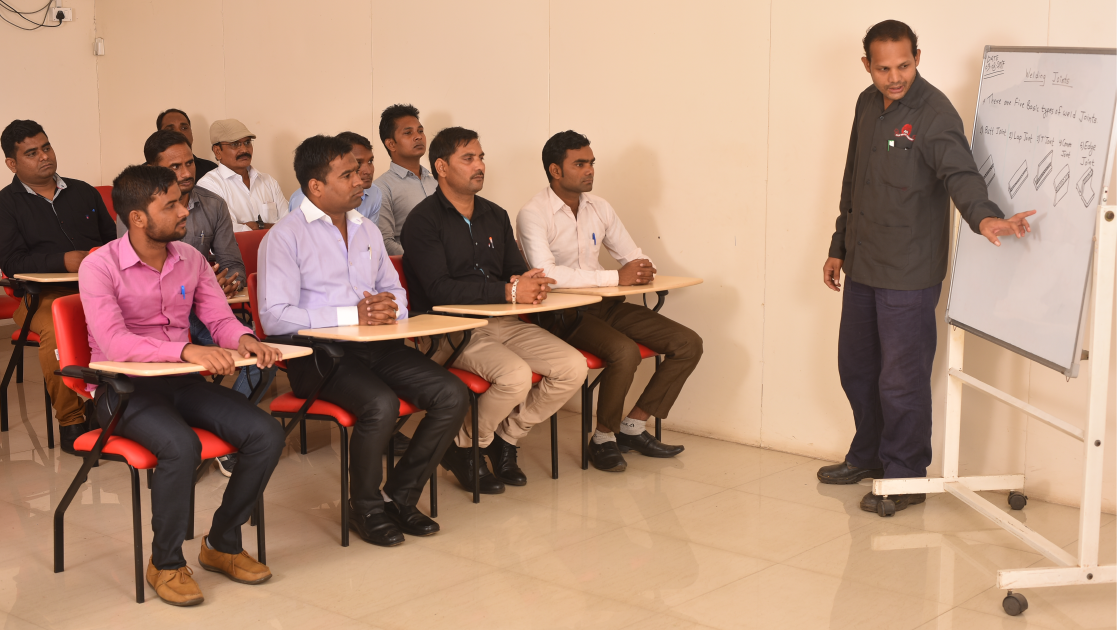 The primary content in all skill programs is based on the Kinaesthetic model of " learning through doing"! A special module – EASEWELD has been developed for entry level, where students learn dexterities on Simulators. Digital modules provide flexibility to learn "anytime-anywhere". Employability-oriented skill development is an essential part of our curriculum. Modules for Short-term, skill enhancement programs for in- service workmen/ women are also available.